---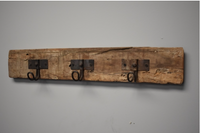 Our Vintage Reclaimed Wood 3-Hook Wall Rack is a perfect blend of rustic charm and functional design for your home. Crafted with care from reclaimed old wood and adorned with vintage metal hangers, this wall rack is not just a storage solution but a statement piece that adds character to any space.
Each wall rack is made from carefully selected reclaimed old wood to ensure all reclaimed wood racks are unique from one another.  The Vintage metal hangers are sturdy and crafted from metal to provide a timeless and industrial esthetic. The distressed flat black finish complements the warmth of the reclaimed wood, creating a harmonious blend of textures. The rack is easy to install with the necessary hardware install on the back of the rack. 
Measurements Include: 24" W X 4" H X 3" D   
**** Size, finish and color may vary due to reclaimed wood.