---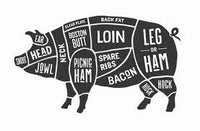 Rowe Family Farms is offering  pasture raised whole or half freezer pork. You customize the meat cuts, keep in mind the cuts will determine the amount of meat you receive. 
Rowe Family Farms make it easy to purchase clean bulk meat. Our price includes the  butcher, processing, packing and deliver fees. We coordinate your customized cut sheet to the Butcher Shop. You pay the nonrefundable deposit and choose your cuts of meats.  We send you a finalized bill based on hanging weight. Once finalized bill has been paid, we deliver your customized meat cuts to your home. 
Here's a breakdown:

Hanging weight:  $4.39 per lb  (Includes butcher ) 
You can add an optional smoke fee for an additional $2.00 per lb   (Optional smoking fee is for meats such as ham, roasts or bacon. This fee would be added to the cuts of meats you have smoked by the pound.)  
For example, an average whole freezer pork might cost:
Hang weight:  230 lb X $4.39  per lb = $1,009.70
Plus additional 15 lb  X $2.00 per lb for smoked bacon = $30.00
Total for whole freezer pork= $ 1,039.70 Total 
Final Fee minus $500.00 Deposit = $539.70
Delivery time vary depending on volume but is typically 2-3 weeks from payment of deposit.