---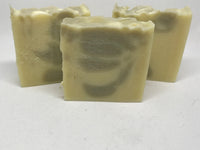 Rowe Family Farms Tea Tree and Peppermint soap is specifically designed for people with skin on the oily side and prone to acne problems but can be used by everyone. We use essential oils that help fight acne, control oil and heal damage that has already been done to the face. French Green Clay is also added to draw out toxins and help keep clear pores. It will leave your skin feeling smooth, refreshed and hydrated. 
 Ingredients: Raw Unrefined Coconut Oil, Grass Fed Beef Tallow, Olive Oil,  Spring Water, Sodium Hydroxide,  Essentials Oils: Peppermint and Tea Tree Oil, French Green Clay 
Please note that this soap is made with ingredients that may contain allergens such as tree nut oil. Therefore, make sure you have carefully read through all of the ingredients. By purchasing this product, you are acknowledging that you have read and are aware of all of the ingredients used. 
*Fine Print*
Each bar of soap is handcrafted by me in small batches and each batch may vary from the way it is pictured. Most of our soaps weigh around 5 oz, but because they are hand cut, may vary between 4.5 and 5 ounces.
About the Ingredients
Coconut oil, which is composed primarily of natural saturated fats, is an excellent moisturizer. It is also a good source of Vitamin E.
Olive oil provides a creamy, lotion-like lather and contains many nourishing vitamins such as Vitamin E.
Grass Fed Beef Tallow is derived from rendering the fat from beef which would normally be thrown away and unused. Grass Fed Beef Tallow is  rich in anti-aging antioxidants, Vitamins A, D, E and K and promotes skin cell regeneration.
French green clay can give relief from pain and inflammation, it has is antiseptic, antibacterial and healing properties.