---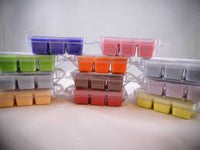 Sale
we Family Farms offers strong scented 100% Soy Wax melts made in small batches and hand poured with high quality Phthalate Free Fragrance oils and essential oils.  Our wax melts are 2.75 ounces. 
New Released Scents for Yellow Stone Fans: 
Beth: Sweet Floral & Fruity Blends of sweet peas, hyacinths, violets with crisp citrus and a twist of white musk, tobacco and rich port.
The Boss: Has a fresh scents of crisp green of the forest during a morning ride with hints of leather, cedar, suede and a twist of musk. 
 Rip Wheeler: A Masculine blend of petitgrain, cardamom and citrus with soft hints of jasmine, rosemary on a base of musk, oakmoss and rosewood. 
Casey:  A masculine fragrance with fresh bergamot, wild lavender and subtle floral followed by sandalwood and soothing musk. 
Jamie : Spicy blend of clove leave with peppercorn, deepened with a warm bourbon accord with a twist of citrus. 
Fall Seasonal Scents: 
Great Pumpkin -  Top notes: White Pumpkin, Coconut , Red Berries    Middle Notes: Cinnamon, Clove, Amber     Base Notes: Cedar, Sandalwood and Vanilla
S'Mores: Top Notes:  Butter    Middle Notes: Cinnamon, Chocolate, Clove    Bottom Notes: Cedar, Pine, Smokey Tonka Bean Vanilla
Autumn Magic - Top Notes:  Apple    Middle Notes: Jasmine, Cinnamon,  Clove    Bottom Notes: Vanilla, Cotton Candy
Hocus Pocus:   Top Notes:  Cinnamon, Sugar    Middle Notes: Amber, Balsam    Bottom Notes: Patchouli, Cedarwood, Vetiver
Autumn Brunch :  Top Notes:  Butter Middle Notes: Cinnamon, Apple, Cherry  Bottom Notes: Vanilla, Musk, Maple Syrup
Apple Pie : Top Notes:  Juicy, Tart, Ginger   Middle Notes: Apple, Cinnamon bark, Nutmeg, Clove    Bottom Notes: Musk, Vanilla, Gingerbread
Peace and Love:  Top Notes:  Green, Citrus    Middle Notes: Lily, Clove    Bottom Notes: Patchouli, musk, vanilla
Minty Lavender: Fresh cool mint with smooth relaxing scent of lavender.
Pumpkin Roll: Top Notes: Creamy Pumpkin, Brown Sugar    Middle Notes: Nutmeg, Clove Bud, Cinnamon  Bottom Notes: Tonka Bean Vanilla
Christmas Seasonal Scents: 
Santa's Pipe- Lingering smell of ancient tobacco, cherry and a touch of vanilla still linger in the air with presents under the t tree. WAIT! it has to be Santa's and his Pipe.
O'Christmas Tree - The Holidays come with comforting scents of cypress, fir clippings  & eucalyptus topped with herbal green and clove resting on a base of decadent woods & sweet vanilla.
Season's Greetings-  Nostalgic scents opens with warm citrus notes leading into a sweet blend of fruit & Florals on a base of cinnamon & clove.
Vanilla Noel - The smell of sugar cookies and warm vanilla bring the aroma of holiday baking alive. 
Home for the Holidays - Rich blend of sparkling fruit with notes of fir, cedar, juniper and pine.
Cranberry Delight -  Sweet, tart and tangy fresh cranberries with a layer of sweet vanilla and blue spruce with spicy clove.