---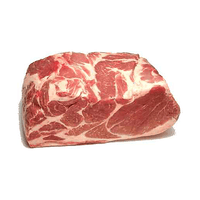 Sale
 Enjoy the clean living with Rowe Family Farms Pasture Raised Boston Butt Pork Roast grown locally.   Our Pasture Raised Pork is raised with no added growth hormones.  Meat is individually plastic vacuumed sealed packages.  
Boston Butt is the well known favorite cut for slow-cooked pulled pork in all of its spectacular variations, from BBQ sandwiches to classic Mexican carnitas, and the foundation for a great Cuban sandwich.  This mean can be cooked in the oven, slow cooker, smoker for hours, and/or braise them. * Always cook with fat side up for tender and moist meant. * 
 Cooking tips:  Place in a roasting pan lined with a rack and cook at 450℉ for 15-20 minutes to create a golden-brown crust. 4. Lower the oven temperature to 250℉ and cook for an additional 45 minutes to 1 hour per pound. Cook until the meat is tender and pulls back from the bone. Let rest for 10-15 minutes. 
For Local Purchase only!  For other cuts email or call for pricing and availability (423) 650-2891or rowefarmstn@gmail.com  Free Free Local Delivery for orders of $45.00.