---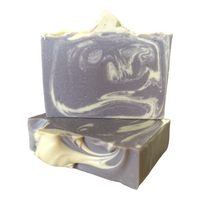 Experience serenity like never before with Rowe Family Farms Sage and Chamomile Soap. Our expertly crafted soap is designed to offer a soothing and calming bathing experience. Delicate hints of sage are beautifully balanced with the serene essence of lavender, all enveloped in the comforting embrace of soothing chamomile. Indulge in the tranquility of this soap today.
Ingredients: Coconut Oil, Sustainable Sourced Palm Oil, Sunflower Oil, Olive Oil, Cocoa Butter, Tussah silk, Water, Sodium Hydroxide, Coconut Milk, Distilled Water,  Mica, and high-quality Phthalate-Free Fragrance
This bar of soap averages 5 ounces per bar. The listing is for one bar of soap. Batches are made in small batches in our dedicated studio on the family farm, soaps may vary between batches in appearance and design.