---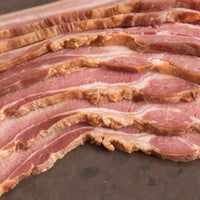 Enjoy the clean living with Rowe Family Farms Thick Cut Pasture Raised Hickory Smoked Pork Bacon grown locally.  Our Smoked Pork Bacon is raised with no added growth hormones.  Meat is individually plastic vacuumed sealed in 1 pound packages.  Pricing is set per package based on average weight per pound.  
Ingredients: Water, Salt, Sodium Phosphate, Sugar, Sodium Nitrite, Sodium Erythorbate and Flavorings
For Local Purchase only!  For other cuts email or call for pricing and availability (423) 650-2891or rowefarmstn@gmail.com  Free Free Local Delivery for orders of $45.00.